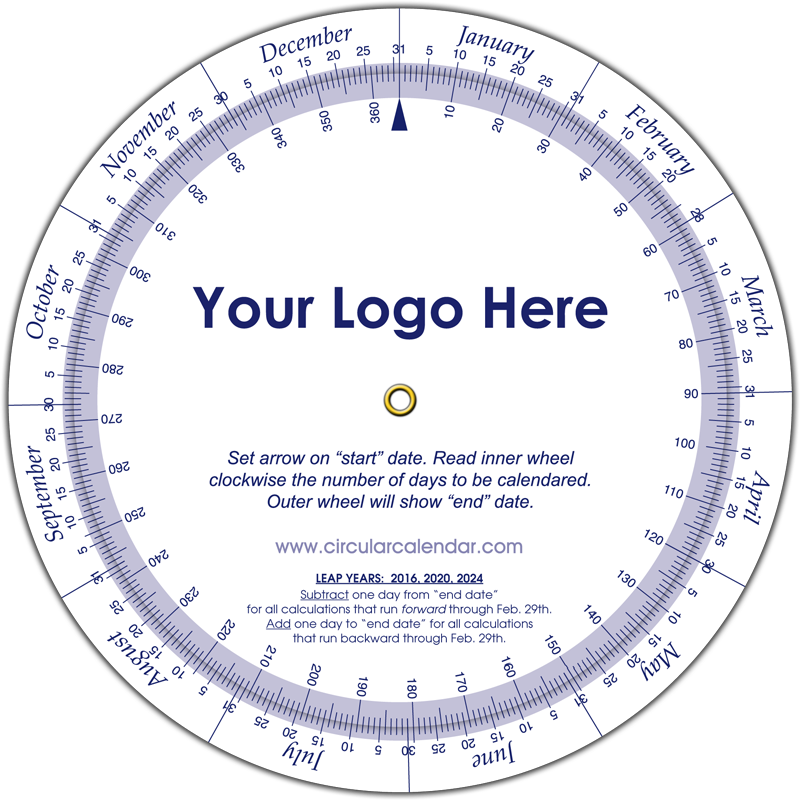 Custom Imprinted
Order custom imprinted Circular Calendars with your logo and color(s) in quantities of 250 or more.
Order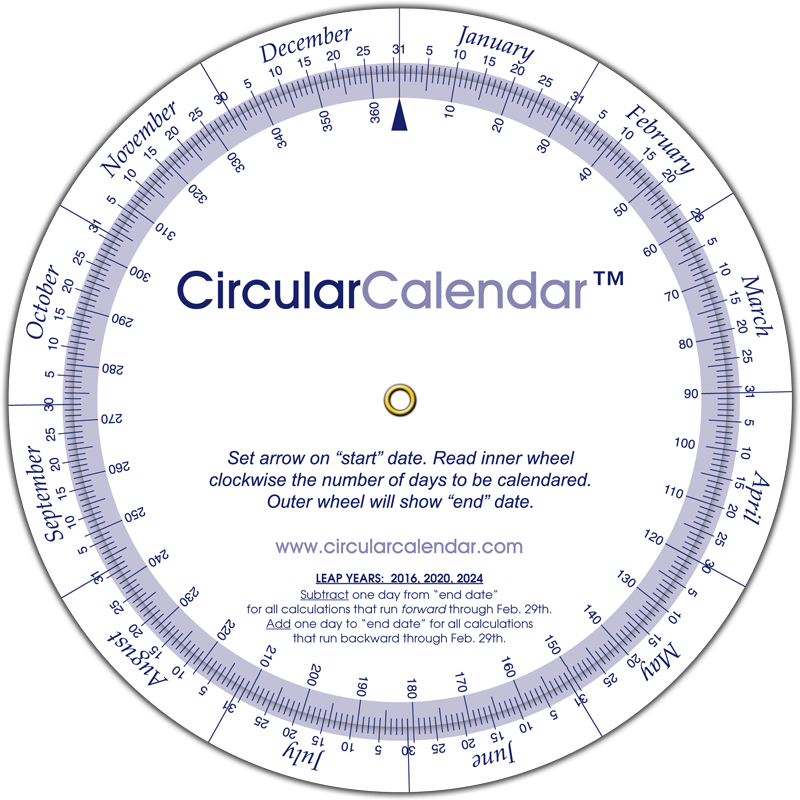 Original Circular Calendar™
Order generic Circular Calendars™ in increments of 10. ($4.00 each and $5.00 flat-rate shipping)
Order
Pricing
With your order of 250 or more, your Circular Calendars will be personalized with your company's information and logo.
| Quantity | 250 | 500 | 1,000 | 2,000 |
| --- | --- | --- | --- | --- |
| 1 color | $2.85 ea. | $1.92 ea. | $1.34 ea. | $1.10 ea. |
| 2 color | $3.36 ea. | $2.14 ea. | $1.54 ea. | $1.25 ea. |
| 4 color | $5.02 ea. | $3.04 ea. | $2.00 ea. | $1.56 ea. |
General Information
The Circular Calendar™ is custom imprinted in quantities of 250 or more. Personalized with your company's information and logo, this is a great way to keep your name in the hands of your clients and customers, since it is used over and over every day.
| | |
| --- | --- |
| Material | 12 point, heavy-weight card stock, UV coated for extra strength, durability, and gloss |
| Size | 6" outer disk and 5" inner disk |
| Imprint Area | 4.275" diameter circular area with a .25" grommet in the center |
No set-up charge!
No charge for PMS color matching
($30 extra for metallic inks)
Most of our customers want text as well as a logo on their calendars. If you know exactly what you want, email it to us along with your logo in one of the approved formats. If you are not sure what you want your calendar to look like, we will work up a proof for you to look at.
Artwork Specifications
Acceptable graphics file types: Adobe Illustrator, PhotoShop, or Professional PDF are preferred. However, any eps vector file can be used if converted to curves. JPG GIF, and BMP are not acceptable. Neither are images taken from websites. These types of images are too bitmapped, or pixilated to be used for printing.
What if I don't have artwork? Generally, the graphics person or company who created your logo will have a copy they can send to us. However we can assist you in recreating your logo or designing new art for you. Artwork services are billed at $40 per hour. If that is necessary,we will let you know before proceeding.
Proofs
We will email you a proof in .pdf format, except as noted in particular product listing. You are responsible for checking and verifying all art, including spelling. The first three proofs are free. Thereafter they are $15.00 per additional proof.
Color Matching
Free color matching with your firm or company's logo and website.
Refund Policy
Circular Calendars are guaranteed as to quality and workmanship. However, all custom-printed items are non-returnable and no refunds will be given.